Pearl lights are a holiday favorite, weather the holiday is Christmas or St. Patrick's Day! They come in all sorts of colors and lenghts, but the average is an orb of about a quarter inch in Diameter. They are not very expensive at only around $11-$15 for a box of 70. You can even go Green with them! These Holiday Lights even come in an LED, energy saving form! Go Green! Normally, a set of LED Pearl Lights costs (on Amazon.com) $12.80, only about a dollar more than there incandescent friends.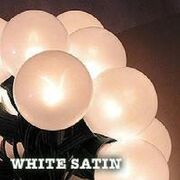 Ad blocker interference detected!
Wikia is a free-to-use site that makes money from advertising. We have a modified experience for viewers using ad blockers

Wikia is not accessible if you've made further modifications. Remove the custom ad blocker rule(s) and the page will load as expected.